Regular price
Sale price
$32.00
Unit price
per
Sale
Sold out
A powerful 19 ingredient nutrient-dense body moisturizer powered by sea buckthorn, marula, tamanu, and rose hip oils. Sea buckthorn oil, made from the pulp of the sea buckthorn berry, provides one of the rarest omega fatty acids on earth - Omega 7.
Sea buckthorn is used in Traditional Chinese Medicine to soothe dryness, soften the skin, reduce inflammation, and improve circulation to promote healing. Rich in proteins and omega fatty acids, marula and tamanu oil provides intense hydration and promotes skin vibrancy; while rose hip oil, 
naturally rich in retinol acid (vitamin A), is known for helping to replenish and restore mature or sun-damaged skin.
Handcrafted in New York City. 100% naturally-derived unfiltered ingredients.

Naturally and gently scented with essential oils. 
Share
Detail

A powerful nutrient-dense body moisturizer. This Botanical Body Butter is made with 19 ingredients that each serve a purpose for your skin's health.

DEWYRX's Botanical Body Butter is made with 19 purposeful ingredients to help with many common problematic skin issues. Made with lightweight, non-comedogenic oils and butters suitable and safe for all skin types and all ages. Ideal for sensitive skin in need of an all natural moisturizer to relieve and soothe skin from breakouts, irritation, dryness, aging, and inflammation. Made with only the best 100% naturally derived unfiltered ingredients.

Scent: Floral, Bright, Citrus. Notes of lavender, geranium, and bergamot.
Texture: Soft like whipped cream
Color: Creamy white

We use essential oils in this product because we believe that your daily beauty ritual can also provide a sense of calm and wellbeing. Its' well documented aromatherapeutic properties have shown to be effective in the treatment of anxiety and depression. Our products use natural botanical oils not only to provide skin and hair nurturing effects, but also breathing in its scent naturally reduces feelings of stress and anxiety.

*All essential oils are added at skin safe percentages and should not cause any irritation to the skin. However, we always recommend performing a patch test prior to use.

PERFORM A PATCH TEST BEFORE APPLICATION: A patch test is a diagnostic exam that people can use to determine whether specific products result in skin irritation or an allergic reaction.

When trying new products, we recommend always performing a patch test to ensure your skin does not have any negative reactions to the ingredients in this product. Although all of our products contain safe and naturally-derived ingredients, some people are more susceptible to irritation even from natural ingredients.

A patch test can be performed by applying a small amount of product behind your ear and on the inside of your arm and monitoring the area for 24-48 hours. If any irritation occurs, immediately wash the product off and discontinue use.

Store in a cool, dry, and dark place to prolong shelf life of natural ingredients.

For external use only. This product is not guaranteed to prevent or cure any disease.
Key Ingredients

Sea Buckthorn Oil/ In Traditional Chinese Medicine, sea buckthorn is a regenerative and reparative oil used to soothe dryness and soften the skin, reduce inflammation, and improve circulation to promote healing. Made from the pulp of the sea buckthorn berry, this oil is rich in omega fatty acids and vitamins C and E, and provides one of the rarest omega fatty acids on earth - Omega 7. Sea buckthorn oil is easily absorbed by the skin and facilitates oxygenation and detoxification of the skin.

Marula Oil/ Rich in proteins and omega fatty acids, lightweight, and easily absorbed, Marula oil works wonders on dry skin, soothing irritated skin, and providing intense hydration.

Tamanu Oil/ Cold pressed from the seeds of the Tamanu plant. Tamanu Oil contains powerful essential fatty acids for promoting cell growth and skin vibrancy, restoring damaged skin, and healing breakouts, scarring, and sun damage.

Rose Hip Seed Oil/ A rich oil from the ripened fruit of the rose known as hips. This oil contains natural Retinol Acid (Vitamin A) and is known for helping to replenish and restore mature or sun-exposed skin. This anti-inflammatory herb is rich in linoleic acids, and vitamins B2, B3, C, and K to help reduce blemishes and brighten the skin.

Lavender Oil/ Commonly known for its relaxing scent, lavender oil's benefits extends beyond its aromatherapy uses. Highly rich in antibacterial properties to help fight acne-inducing bacteria and clogged pores. Perfect for soothing irritated skin due to its natural anti-inflammatory properties. As a result, lavender may help certain skin conditions, such as eczema or psoriasis. Also rich in antioxidants, it provides anti-aging benefits by protecting the skin against damaging free radicals.

Geranium Oil/ A natural antioxidant and anti-inflammatory oil, geranium oil actively boosts skin's health and glow. It's known to soothe irritated or breakout prone skin, and speeds up healing of skin and helps regenerate healthy new skin cells. It is often used to treat scar tissue, dark spots, and hyperpigmentation left by acne and sunburn. Containing antiseptic and antioxidant properties, it helps to unblock pores and restore natural sebum balance on the skin's surface.

All Ingredients/
Mango Seed Butter, Shea Seed Butter, Kokum Seed Butter, Sunflower Seed Oil, Avocado Oil, Grape Seed Oil, Jojoba Seed Oil, Hemp Seed Oil, Tamanu Seed Oil, Rosehip Seed Oil, Marula Seed Oil, Sea Buckthorn Oil, Lavender Flower Oil, Geranium Flower Oil, Arrowroot Powder, Vitamin E, Orange Peel Oil, Bergamot Peel Oil, Atlas Cedar Wood Oil

100% naturally-derived ingredients.

We regularly update the formulations used in the composition of our products. Before using our products, please carefully read the ingredients list to ensure that the ingredients are suitable for your personal use.
How To Use

Start with a small amount, and massage thoroughly all over body, focusing on areas of concern until absorbed. Apply daily, after showering for best results.

Repeat in the morning and night as part of your skincare ritual.

Tip: Apply additional layers onto rougher, more dehydrated areas for added moisture.
Who It's Good For

For all skin types. Especially those with sensitive skin prone to irritation and in need of a gentle, nutrient-rich moisturizer.

Especially beneficial to those with problematic skin issues such as eczema, dry skin, dullness, flaky skin, strawberry skin, hyperpigmentation, stretch marks, diaper rash, bruises, insect bites, sunburn, scarring, dark spots, uneven skin tone, oil control, and acne.
View full details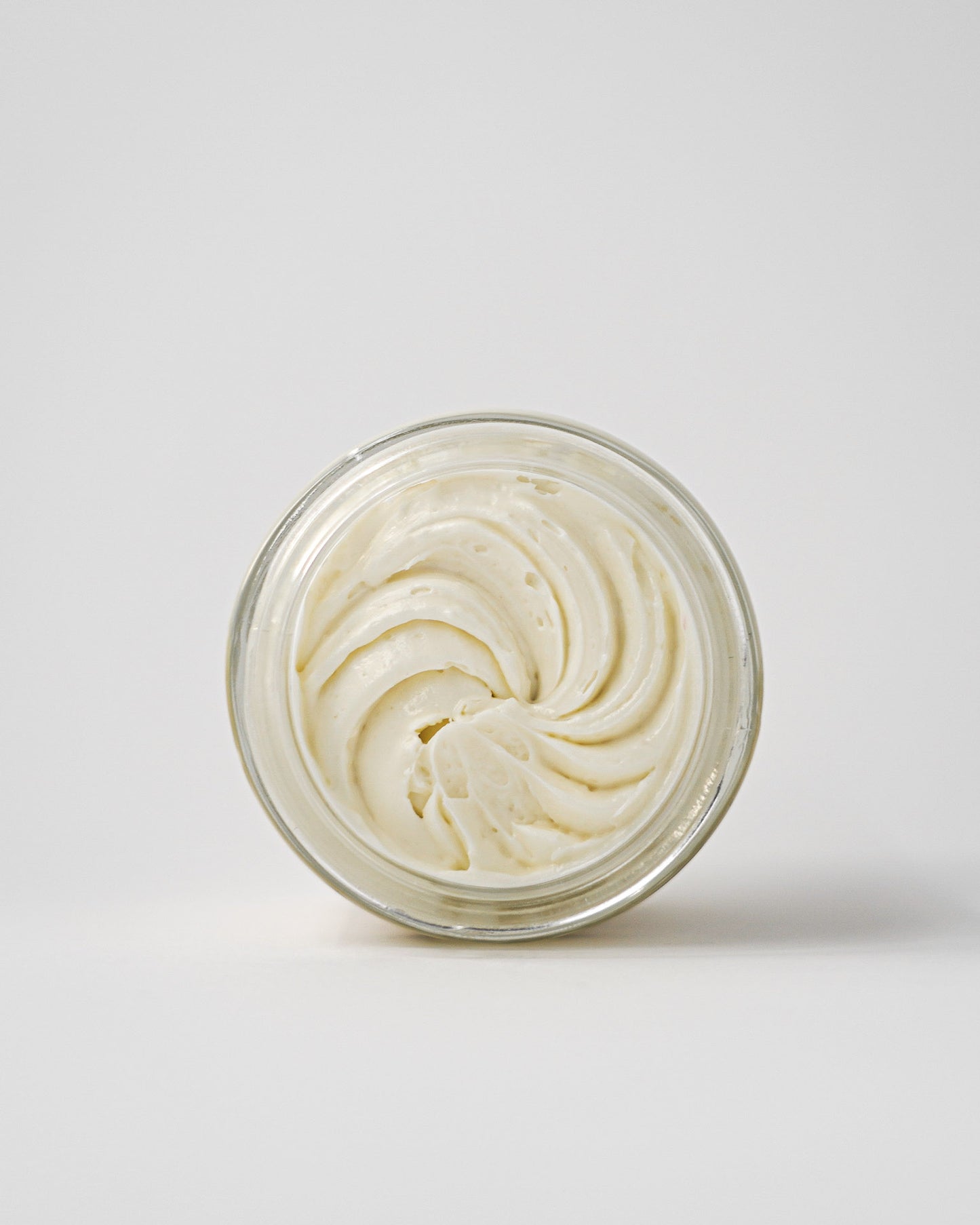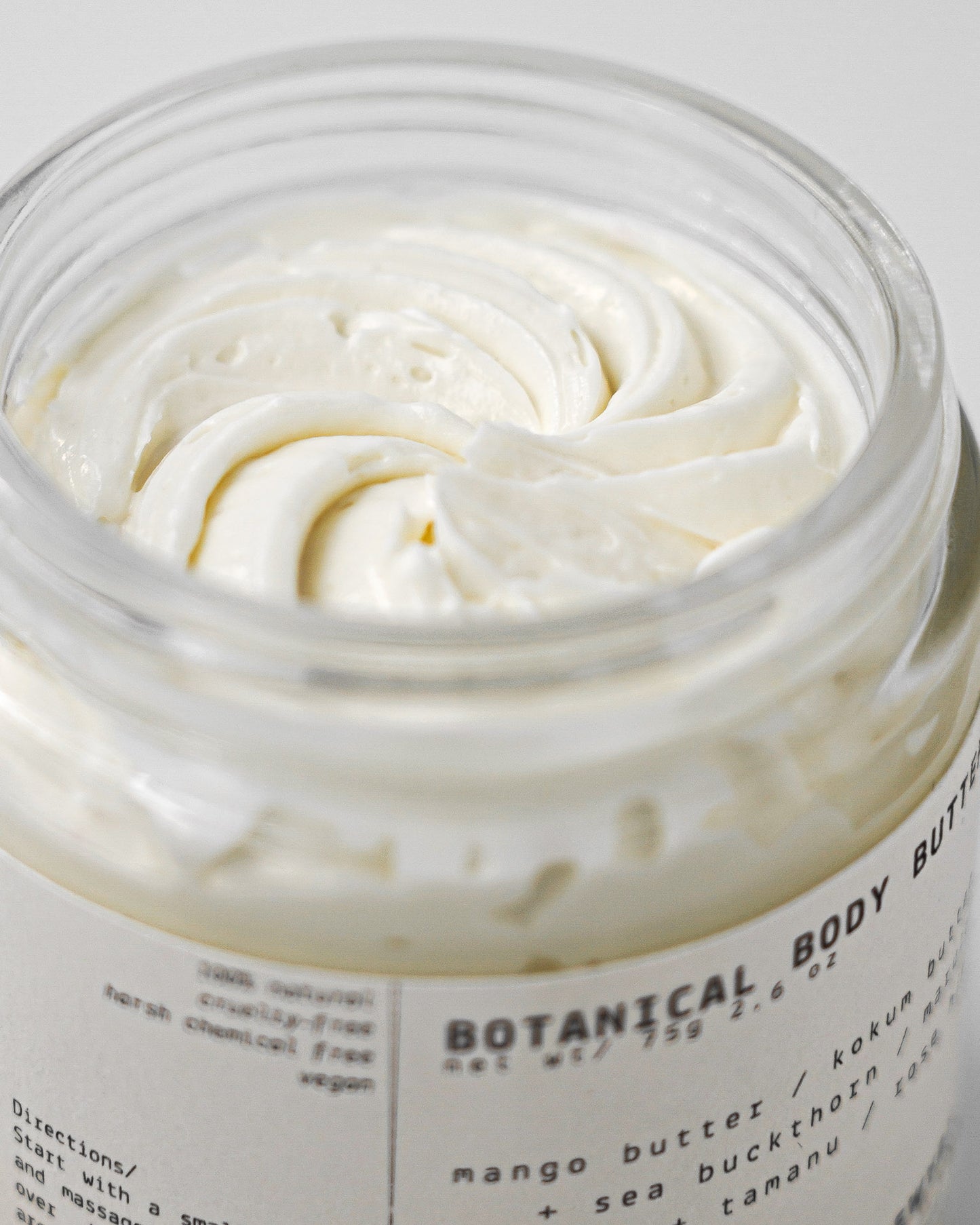 1OO% Natural • Made in NYC • Vegan • Fragrance-free
YOU MAY ALSO LIKE
Regular price

Sale price

$30.00

Unit price

per

Regular price

Sale price

$30.00

Unit price

per

Regular price

Sale price

$50.00

Unit price

per

Regular price

Sale price

$32.00

Unit price

per
Sooo Moisturizing
My skin is normally so freaking dry and itchy but this body butter make my skin feel so soft and moisturizing. A little goes a long way and it leaves a really nice sheen to the skin. I did some research and the ingredients in this are amazing!! Haven't found another body moisturizer with this many amazing ingredients for the price.
Eczema Relief
I have really bad eczema, and this body butter has helped so much already. My skin feels less itchy and red after just one application! Get this you won't regret it!!
BEST BODY BUTTER
WOW. Normally I don't leave reviews but this body butter is AMAZING. I have used so many other body butters but this one feels so fluffy and just melts into my skin. It has a floral scent which I love and makes my skin look so glowy and moisturized!!