Regular price
Sale price
$30.00
Unit price
per
Sale
Sold out
A buttery soft facial cream that is deeply conditioning and packed with a blend of skin-repairing ingredients such as mango butter, kokum butter, pumpkin seed oil, and bergamot oil. In Traditional Chinese Medicine, bergamot orange is a powerful antiseptic, and has been successfully used for treating inflammatory skin conditions such as acne and eczema. It possesses powerful anti-oxidative, anti-bacterial, and anti-fungal properties. Our bergamot oil is BERGAPTENE-FREE, so it will not cause skin photosensitivity when exposed to sunlight.
Bergamot is also widely known as the queen of oils for balancing emotions. It has a balancing, uplifting, and energizing quality to bring harmony and a sense of wellbeing.
Handcrafted in New York City. 100% naturally-derived unfiltered ingredients.
Naturally and gently scented with essential oils.
Share
Detail

A buttery soft facial cream that is deeply conditioning and packed with a blend of 100% natural, skin-repairing ingredients such as mango butter, kokum butter, pumpkin seed oil, jojoba oil, and bergamot oil.

Made with lightweight, 100% non-comedogenic ingredients, suitable for all skin types and is safe for all ages. Powered by fruit + plant oils and butters, and plant extracts to naturally nourish skin and protect against premature aging. Perfect for sensitive skin in need of an all natural moisturizer. Made with only the best 100% naturally derived unfiltered ingredients.

Scent: Citrus + Bright, notes of bergamot
Texture: Soft and Creamy
Color: Creamy white

We use essential oils in this product because we believe that your daily beauty ritual can also provide a sense of calm and wellbeing. Its' well documented aromatherapeutic properties have shown to be effective in the treatment of anxiety and depression. Our products use natural botanical oils not only to provide skin and hair nurturing effects, but also breathing in its scent naturally reduces feelings of stress and anxiety.

*All essential oils are added at skin safe percentages and should not cause any irritation to the skin. However, we always recommend performing a patch test prior to use.

PERFORM A PATCH TEST BEFORE APPLICATION: A patch test is a diagnostic exam that people can use to determine whether specific products result in skin irritation or an allergic reaction.

When trying new products, we recommend always performing a patch test to ensure your skin does not have any negative reactions to the ingredients in this product. Although all of our products contain safe and naturally-derived ingredients, some people are more susceptible to irritation even from natural ingredients.

A patch test can be performed by applying a small amount of product behind your ear and on the inside of your arm and monitoring the area for 24-48 hours. If any irritation occurs, immediately wash the product off and discontinue use.

Store in a cool, dry, and dark place to prolong shelf life of natural ingredients.

For external use only. This product is not guaranteed to prevent or cure any disease.
Key Ingredients

Sunflower Seed Oil/ Rich in antioxidants like Vitamin E to protect your skin from premature aging and wrinkles to keep your skin looking young and fresh. Highly rich in linoleic acid to retain your skin's moisture barrier. Reinforcing this natural moisture barrier is especially helpful for those with eczema or inflamed skin.

Grape-seed Oil/ A light versatile oil with mild astringent and emollient properties that contains numerous essential fatty acids. Its' rich, silky texture is perfect for soothing dryness and irritation.

Avocado Oil/ Ideal for skin in need of hydration and has shown to increase epidermal elasticity, while thoroughly moisturizing and softening dry or cracked skin.

Jojoba Oil/ One of the most popular skincare oils available today, jojoba oil contains many nutritional compounds, including long-chain essential fatty acids and fatty alcohols. Commonly used to promote softer skin.

Pumpkin Seed Oil/ Possesses high skin permeation and anti-aging abilities due to its highly concentrated percentage of saturated and unsaturated fatty acids and vitamin E.

Bergamot Peel Oil (BERGAPTENE-FREE)/ Antiviral and anti-fungal properties that can help treat acne and inflammatory skin conditions.
***Bergaptene is the natural chemical in bergamot oil which causes phototoxicity & photosensitivity. It has been eliminated from this product and is 100% safe to use on sun-exposed skin. However, as a precaution, we always recommend to apply sunscreen whenever exposed to UV light.

Ingredients/
Mango Seed Butter, Kokum Seed Butter, Sunflower Seed Oil, Grape Seed Oil, Avocado Oil, Jojoba Seed Oil, Pumpkin Seed Oil, Vitamin E Oil, Bergamot Peel Oil, Orange Peel Oil, Tangerine Peel Oil, Grapefruit Peel Oil, Lemon Peel Oil

100% naturally-derived ingredients.

We regularly update the formulations used in the composition of our products. Before using our products, please carefully read the ingredients list to ensure that the ingredients are suitable for your personal use.
How To Use

Apply a dime-sized amount onto clean skin each morning and evening. Gently massage into face and neck until fully absorbed. After morning application, apply SPF for protection against harmful UV rays.

Repeat daily in the morning and night as part of your skincare ritual.

Tip: Apply additional layers onto rougher, more dehydrated areas for added moisture.
Who It's Good For

For sensitive skin in need of an all natural moisturizer to relieve and soothe skin from common skin issues such as acne breakouts, dryness, eczema, and redness.

Especially beneficial to those with severely dry skin, dullness, uneven skin tone, flaky skin, oily skin, hyperpigmentation, dark spots, breakouts, and acne.
View full details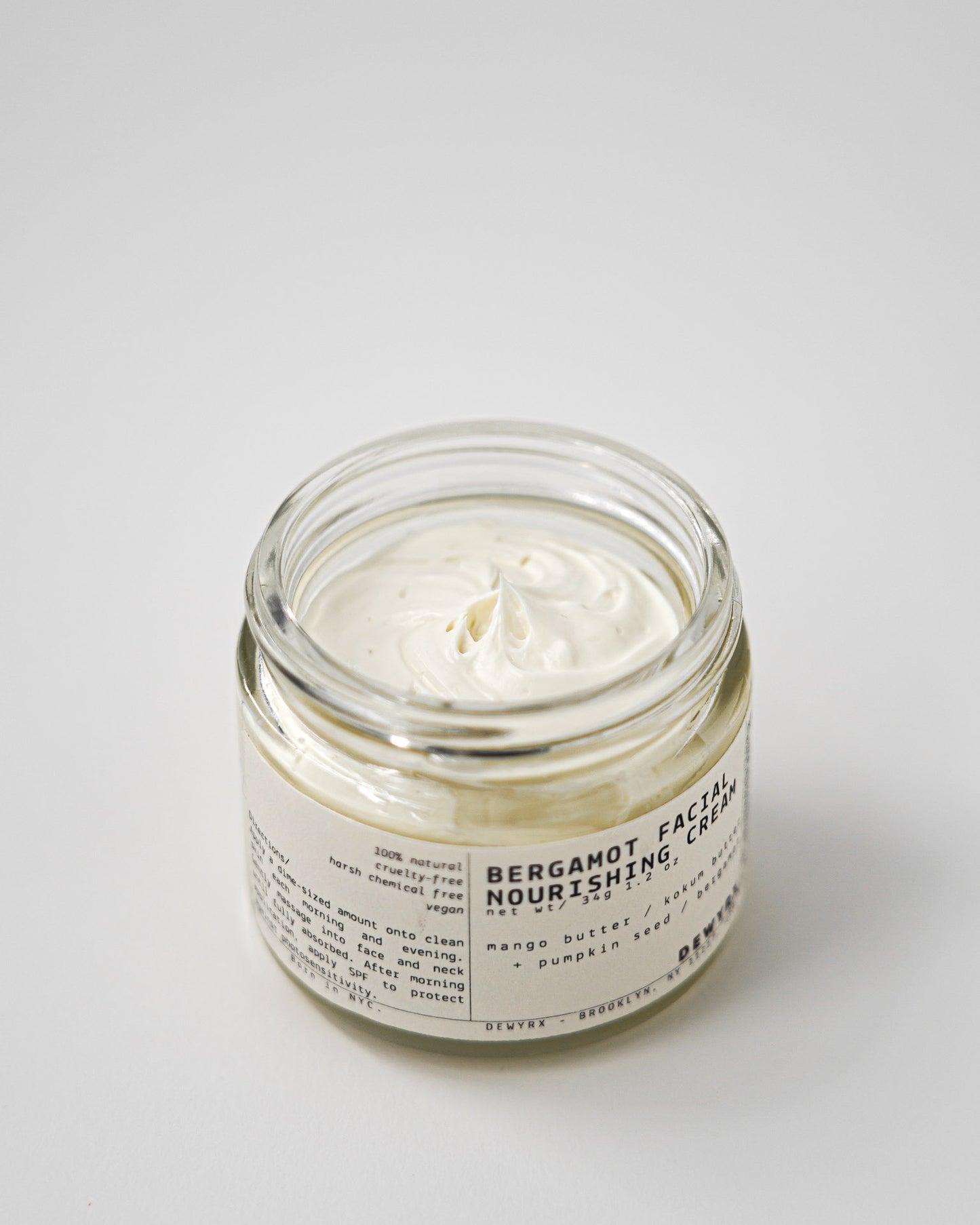 1OO% Natural • Made in NYC • Vegan • Fragrance-free
YOU MAY ALSO LIKE
Regular price

Sale price

$30.00

Unit price

per

Regular price

Sale price

$30.00

Unit price

per

Regular price

Sale price

$50.00

Unit price

per

Regular price

Sale price

$32.00

Unit price

per
Love this face cream!
Highly recommend this for sensitive acne prone skin!! So far it feels super moisturizing and my skin has been reacting well to it. Also it smells amazing. 10/10!
CURED MY FACE ECZEMA
Ok yall this cream legit cured my face eczema. I randomly got this rash on my face out of nowhere and after using this cream, my face was almost completely back to normal the next day! I'm OBSESSSEDD
Best all natural face cream!
You guys this face cream is SO GOOD. I have really sensitive skin so been looking for a moisturizing face cream that won't make me break out and this is it! Love that it's 100% natural and I LOVE the citrusy smell.